On this site, you will find all the latest information about our activities and events. You will also find many curious facts from everyday life. Astra Divina blog finds inspiration in nature and everything that is natural.
In the opposite direction
They say that our life journey to Gorski Kotar was quite unusual. People usually move from the countryside to the cities. We did the opposite. We moved from the city into a hamlet called Šafari which we fell in love with at first sight. This is the story you will find on this site. Because we want to share with you all that we are and all that we create. How we live, why we came, what we love. You can find out all this by reading the Astra Divina blog.
Nature is what has always inspired us. It harmonizes and motivates us. We find everything we need in nature. That is why we have created this virtual space to share our experiences, impressions and stories. From building a low-energy wooden house to using rainwater. From picking plants for food and medicine all the way to growing vegetables and fruits without the use of pesticides and herbicides. What we invest in nature pays off in many ways. Perhaps, you will find out on the pages of the Astra Divina blog how to contribute to your well-being. And you may even discover how to grow your favorite food in harmony with nature.
We want you to easily and in one place find all the information and news you need. From content to help enrich your stay in nature and events you don't want to miss. With that in mind, we created the Astra Divina blog. It is like a gathering place for information for all nature lovers. You will find all the news about our activities. We will also write about how our ideas are born. What process does it take to realize something.
Maybe we awaken in some of you a spark of curiosity and a desire for change. We would be happy to find out about your opinion and your suggestions. This is a space for socializing, for connecting and exchanging ideas. Therefore, we invite you to contact us, write, share. Let's create a sustainable community in nature together.
SUBSCRIBE to our newsletter
For those who don't want to miss any Astra Divina blog post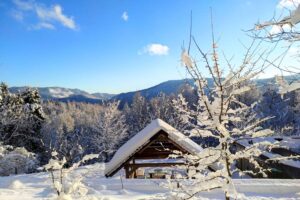 Discover Hrib
It is difficult to describe the challenges of village life. For us former city dwellers, village life proves to be the source of great inspiration and joy.
Više »